Drums:
The drums are standard FM drums (sampled into the SP1200, ran through Flesh Modulation effect, then sampled into the mpc2000xl for sequencing). I know they sound distorted and noisy. Get used to it.
Synth: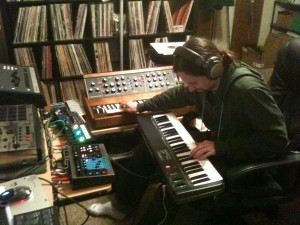 The synth sounds are played live by GBoi. We used the MeeBlip for most of the layers. The MeeBlip was ran through the OTO Biscuit (read Biskweeee to make it sound like it's worth $600). GBoi played the MeeBlip using a MIDI Keyboard, and I turned knobs on the Biscuit (bisk-woo -hoo!) while he played.
The high pitch twiddle sound at the end of the loop is a Moog Model D.
Recording Process:
This beat was more of a work flow experiment than a song composition. We didn't use a computer at all while recording. We recorded loops real time by using the Electro-Harmonix 2880. This thing is bad ass for recording loops in the studio. The 2880 (twenty-eight eighty) has an external clock mode that lets you sync its tempo and loop point to an external MIDI device (i.e., it will sync to the tempo of the sequence on the mpc2000xl). We used the MIDI out of the mpc2000xl to the MIDI in of the 2880. So, anything you try to loop live while using the 2880 automatically looped perfectly with the mpc drums. Also, pushing the transport buttons (play, stop, etc.) on the mpc controls the same functions on the 2880.
A computer can read the 2880 files like a hard drive via USB. All we had to do was drag and drop the recorded synth loops onto the lappy, and lay out the song in Fruity Loops. A little reverb and compression was added in Fruity Poops.