Scratch drums on this one:
Once again, all recorded onto the 2880.
Another loop using the 2880:
This one is using the MPC for drums (sampled into the SP1200 and filtered with the FM filter first), the Meeblip for the lead and counter lead (ran through the OTO Bisquit), and the little phatty for the drone bass/midrange sound. Everything is played live into the 2880 looper (except the drums). The 2880 was the MIDI master, and the MPC was the MIDI slave.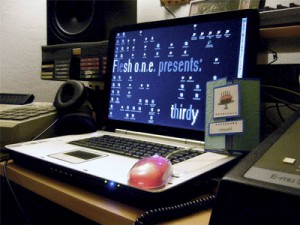 This was an album I released in 2008. It's a bunch of loops made with a lot of different tools and such. There's some LSDJ Game Boy stuff on there, Roland PMA-5, SP1200, MPC2000xl, straight Fruity Loops, etc.. A bunch of different stuff…
Here's a preview of a few beats:
8_bit_ch:

Hs_60_95_2:

Still_Love_1:

Mozart2:

The entire album is here:
Thirdy – Flesh O.N.E.